I just got back from attending my first ever GenCon, and somehow it was even more fun than I imagined it would be. If you are at all interested in games (mostly of the non-electronic variety), you definitely owe it to yourself to try and go to GenCon at least once. If your experience ends up being anything like mine, it'll be worth it.
The Exhibit Hall
It's very easy to spend a lot of your time in the Exhibit Hall. There's just so much to see and explore. Most of the vendors that are selling games have multiple demos for multiples games set up, so you can try games out to see if you like them before ever opening up your wallet. There also tend to be items that are GenCon exclusive, some permanently, and some that will be available everywhere later on. And sometimes games are only available in certain quantities, which often turns out to be games that a LOT of people are looking forward to.
What this boils down to is that my recommendation is that you set aside a good portion of your time on the first day of GenCon to hit the Exhibit Hall. The Hall opens at 10am, but this is what the line looked like at roughly 7:30 am.
Here we are again at about 8:30 am
And then at 9:30 (this one is a panoramic shot):
So if you want to have a chance at anything that is of limited quantity, you need to plan appropriately to show up very early. And if you do decide to show up early so you can get a good place in the mob line, bring something to do. Whether it's a book to read, or a game to play, bring something. The time will pass much more pleasantly if you do.  I recommend a smaller, quick and easy game, like Boss Monster.  Also bring snacks and and water to drink.  It's going to be several long days, and you're going to want to minimize, as much as you can, the need to go offsite for food and water.
One Night Ultimate Werewolf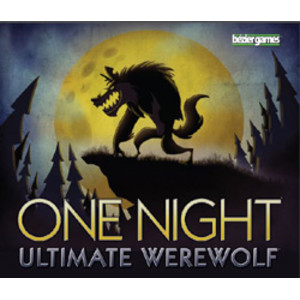 Social Deduction games are currently one of my favorite genre of games, and one of my favorite games of that genre is One Night Ultimate Werewolf, from Bezier Games. It takes the flavor and ideas of the traditional Werewolf game, but fixes all of the problems that made me dislike Werewolf: everyone gets to play the entire time, instead of being eliminated, and the entire game plays from start to finish in under 10 minutes.
This year at GenCon, I got to participate in the 1st ever One Night Ultimate Werewolf world championship tournament. It was a lot of fun. Everyone played 5 games, earning points based on if you won and (if so) what role you had, and the points determined who moved on to the final game. I had one round that I think I played masterfully, as the only werewolf at the table, and managed to completely mislead the entire table. It was great. The very next round, I was one of two werewolves, and the other one 'outed' me as a werewolf because his role got changed. There was no way I could escape that. But it was a lot of fun.
Happily, Bezier Games announced a Kickstarter campaign that is started on Monday, August 3rd, for a new game: One Night Ultimate Vampire. The announcement included some really cool looking perks for backing. I ended up having to save some of the money I budgeted for GenCon in order to cover backing this, but I think it'll be worth it.  I just checked the progress of the Kickstarter campaign, and as of this writing the campaign currently stands at $66,496 pledged out of the $5,000 they were asking for.  So things are going well.  It's well on track to hitting all of the current stretch goals.  I'm glad there are a lot of people that love these games like I do.
Upper Deck
There was one particularly sour experience that we had at GenCon. Among the various events my friends and I signed up for was an event to play the new Legendary: Predator game from Upper Deck, which was released at GenCon. Not only were we going to play, but it was a "Win a Box" event, so there was a high probability that one of the three of us would go home with the game that we played at the event.
We showed up 10 minutes before our scheduled game time to sign in, only to be told that all of those events had been cancelled. From what we were able to gather, the games were selling well enough that someone from Upper Deck decided to just cancel the 'giveaways' so that those games could be sold for full retail price instead.
If you don't care about Upper Deck, this likely won't matter to you, and if you love their Legendary and VS. games, you're probably going to buy them anyways. But it's one of those things where I feel like people should be aware of who they are giving their money to. As entertaining as the Legendary games are for me, even if I didn't have a friend that already owned it, I would not buy the games myself. Treating fans and potential customers that way is extremely not cool in my mind.
Fantasy Flight Games
One of the biggest names in the gaming business right now is Fantasy Flight Games, and they had some big stuff going on at GenCon. Wave 7 of the X-Wing miniatures game was on sale there, and they announced the content of Wave 8, which all seem to be ships from the Star Wars: Rebels cartoon.    The Star Wars: Force & Destiny RPG was released, which I picked up because I am a massive Jedi/Force fanboy.
The very first Fantasy Flight game I ever played was the first edition of Runebound. It's been out of print for a few years now, and FFG announced that by the end of the year it is going to be re-released in a completely new edition. I'm so excited to pick that up for Christmas!
Palladium Books
I'll admit that it's been a long time since I played any of the RPGs from Palladium Books. But I love the settings of their games, and the nostalgia factor is extremely high for me. My very first role-playing games were all Palladium products. I started with Teenage Mutant Ninja Turtles and Other Strangeness, moved into Heroes Unlimited for a bit, and shortly afterwards Rifts was released. Rifts pretty much dominated my entire childhood.
To my delight I got to meet the founder of Palladium Books, Kevin Siembieda, and have a brief conversation with him.
I also had an awesome conversation with one of the writers for Palladium Books, and got to ask him all kinds of fun questions about what plans are in the works for things. I mentioned that two of my biggest gripes with the Rifts line is that I wanted more information about the True Atlanteans (the original inhabitants of Atlantis in this game), and I desperately wanted more information about the city of Lazlo. In the various Rifts books, Lazlo is often presented as this shining beacon of goodness and acceptance, where pretty much anyone is welcome, and there aren't any biases towards or against people who use magic, psionics, or technology. But no hard information is ever given on the city, its inhabitants or leaders. And we've never been given any information regarding whether or not it really is the shining beacon of goodness that we've been led to believe.
I was told that in a relatively short amount of time, I'll have plenty of answers to both of those questions.
I'm rather excited about that.
Cosplay
There was some cosplay going on Thursday and Friday, but Saturday was the big day for the costumed events.  With all of the people clogging the hallways at all times, I wasn't able to get all of the pictures I wanted of the different costumes, but here are some of the ones that really caught my attention:
True Dungeon
Finally, to cap things off, we had our first True Dungeon experience. This is an event that ONLY happens at GenCon each year, and it sells out extremely quickly. I think we were very fortunate to get tickets to it. But if you get a chance to do this, you absolutely should. It's a lot of fun.
My recommendation, though, is that if you do get in, DO NOT play a Barbarian. I'm sure I'm biased, and that there are situations where the Barbarian would be useful. But in the 2nd room of the dungeon we had to make a Reflex save (as a group) in order to determine who got to act that round. For the first several rounds, only the high Dexterity characters (Rogue, Druid, Ranger) got to act. Eventually a relatively good roll came up, and I thought, "Finally, I'll get to do something here…"
And then the GM says, "Everyone except the Barbarian gets to act this round."
Sigh.
But that room also had arguably the funniest and most awesome moment of the event. The room had filled with water and we were being attacked by some kind of sea serpent. The Druid pulls out a spell token and says, "I polymorph into a shark! I've been saving this token for four years." It was amazing.
And if I manage to go back and do True Dungeon again next year, I can bring with me all of the gear tokens I got this time around, so I'll be that much better equipped to deal with whatever encounters we face.
I just won't play a Barbarian.
GenCon 2015
I feel like I've been using the word 'fun' an awful lot in this article, but it's true.  This was such a fun event.  I got to see a lot of cool games and demo a lot of games (some good, some terrible).  I bought some games and nerdy t-shirts.  I got to talk to some of the people that heavily influenced my childhood, and are writing some of the stuff that I love now.  And there were a dozen other things that I got to see and do that I just don't have the room to go into right now.
I have no idea if I'll be able to go again next year, but I really hope so.
Because it was a lot of fun.
Have you ever been to GenCon?  What was your experience?